About the #FeedKaramoja Project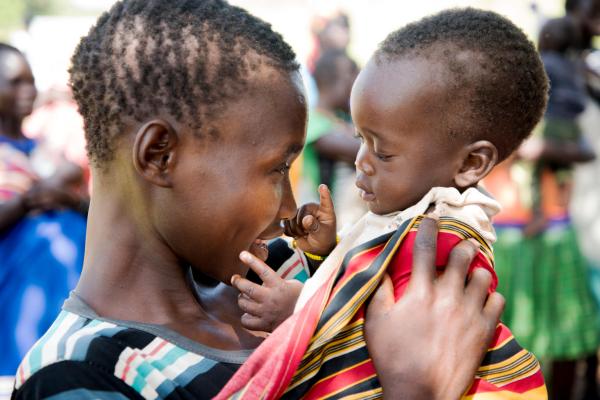 The Problem
Food insecurity has been a recurring problem in Uganda, with the Karamoja region experiencing acute food insecurity. In 2022 alone, World Food Programme reported 361,000 people in Karamoja as affected by the food crisis resulting from the impact of the COVID-19 pandemic and high food prices.


The districts of Kaabong, Kotido and Moroto are registering the highest malnutrition levels at 18.6%. Severe drought and hunger have escalated and have led to deaths of mostly the elderly. Savannah Foundation calling is upon citizens from around the world to raise funds that will be used to purchase food items for families in Karamoja.
Our Solution
Emergency Phase


We have identified 100 households with 5-7 family members for the first phase of donation with each household consuming food items worth UGX 260,000 (USD 70) per month. The food provided is dry ratio foods that include maize, millet and soya flour, beans, sugar, salt and cooking oil.
Long Term Initiative


Having attended to the emergency need, Savannah foundation will proceed to a campaign that will equip natives of the Karamoja region with best farming practices for semi-arid areas to address food insecurity in the long term.
How To Donate
Crypto for good


We are leveraging emerging financial technology to improve traceability and accountability of donations. A fundraising portal that accepts the use of crypto as donation to allow individuals to participate in this initiative. To donate crypto, send to the addresses below, or buy crypto at www.binusu.com and donate as below.
Donate via USSD


With USSD being the most commonly used technology in Uganda, we have set up a code *217*55# to facilitate donations via mobile money from citizens all over the country. The USSD can be accessed with no need for internet access. Simply follow the steps and funds will be allocated from your mobile money wallet to our fundraising portal.
| Date | Full Name | Currency | Amount | Status | Transaction ID |
| --- | --- | --- | --- | --- | --- |
| 2022-08-29 | 1 | Mobile wallet (UG) | 700 | Pending | View Details |
| 2022-08-30 | David Test | Mobile wallet (UG) | 543 | Pending | View Details |
| 2022-08-30 | David Test | Mobile wallet (UG) | 543 | Pending | View Details |
| 2022-08-30 | David Test | Mobile wallet (UG) | 543 | Pending | View Details |
| 2022-08-30 | David Test | Mobile wallet (UG) | 543 | Pending | View Details |
| 2022-08-30 | David Test | Mobile wallet (UG) | 543 | Pending | View Details |
| 2022-08-31 | Anonymous | Mobile wallet (UG) | 5430 | Pending | View Details |
| 2022-08-31 | Anonymous | Mobile wallet (UG) | 5430 | Pending | View Details |
| 2022-08-31 | Anonymous | Mobile wallet (UG) | 5430 | Pending | View Details |
| 2022-08-31 | Amiza | Mobile wallet (UG) | 2000 | Pending | View Details |
| 2022-09-03 | Anonymous | Mobile wallet (UG) | 5430 | Pending | View Details |
| 2022-09-03 | Anonymous | Mobile wallet (UG) | 5430 | Pending | View Details |
| 2022-09-03 | Anonymous | Mobile wallet (UG) | 5430 | Pending | View Details |
| 2022-09-04 | Anonymous | Mobile wallet (UG) | 5431 | Pending | View Details |
| 2022-09-07 | Eddy | Mobile wallet (UG) | 50000 | Pending | View Details |
| 2022-09-08 | Mugema | Mobile wallet (UG) | 5000 | Pending | View Details |
| 2022-09-13 | Judith T | Mobile wallet (UG) | 100000 | Pending | View Details |
| 2022-09-13 | Judith T | Mobile wallet (UG) | 100000 | Pending | View Details |
| 2022-09-13 | Anonymous | Mobile wallet (UG) | 2000 | Pending | View Details |
| 2022-09-13 | Anonymous | Mobile wallet (UG) | 1000 | Pending | View Details |
| 2022-09-14 | HENRY | Mobile wallet (UG) | 500000 | Pending | View Details |
| 2022-09-15 | JUNIOR | Mobile wallet (UG) | 1000000 | Pending | View Details |
| 2022-09-23 | COSMAS | Mobile wallet (UG) | 50000 | Pending | View Details |
| 2022-09-27 | Donald | Mobile wallet (UG) | 10000 | Pending | View Details |
| 2022-09-27 | Donald | Mobile wallet (UG) | 10000 | Pending | View Details |
| 2022-09-28 | KHV | Mobile wallet (UG) | 2000 | Pending | View Details |
| 2022-10-02 | Stella | Mobile wallet (UG) | 2000 | Pending | View Details |
| 2022-10-11 | Grace | Mobile wallet (UG) | 1000 | Pending | View Details |
| 2022-10-12 | PJG | Mobile wallet (UG) | 5000 | Pending | View Details |
| 2022-10-12 | SIBORISO | Mobile wallet (UG) | 10000 | Pending | View Details |
| 2022-10-12 | ALEX | Mobile wallet (UG) | 5000 | Pending | View Details |
| 2022-10-12 | Byamukama amos | Mobile wallet (UG) | 2000 | Pending | View Details |
| 2022-10-15 | MWEBAZE LAWRENCE | Mobile wallet (UG) | 2000 | Pending | View Details |
| 2022-10-17 | Anonymous | Mobile wallet (UG) | 1000 | Pending | View Details |
| 2022-10-18 | ALENYA BENSON | Mobile wallet (UG) | 5000 | Pending | View Details |
| 2022-10-19 | 52 | Mobile wallet (UG) | 2200 | Pending | View Details |
| 2022-10-20 | 0784740711 | Mobile wallet (UG) | 25000 | Pending | View Details |
| 2022-10-22 | Faiza | Mobile wallet (UG) | 5000 | Pending | View Details |
| 2022-10-22 | BAKO | Mobile wallet (UG) | 10000 | Pending | View Details |
| 2022-10-22 | Mayi | Mobile wallet (UG) | 100000 | Pending | View Details |
| 2022-10-22 | Thomas | Mobile wallet (UG) | 56061 | Pending | View Details |
| 2022-10-22 | Anonymous | Mobile wallet (UG) | 50000 | Pending | View Details |
| 2022-10-23 | Joel | Mobile wallet (UG) | 50000 | Pending | View Details |
| 2022-10-23 | Ongodia | Mobile wallet (UG) | 200000 | Pending | View Details |